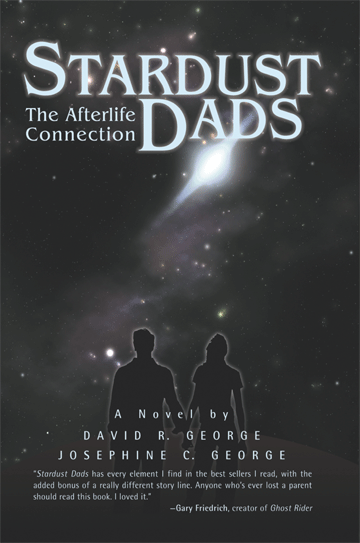 Stardust Dads: The Afterlife Connection
by David R. George and Josephine C. George
Description

The e-mail Danny and Allison read on their new computer in 1996 looks no different from the millions of others received by Web users around the world, with one glaring exception – it was sent by their dads who died during the 1970s.

While residing in the afterworld at an amenity-laden paradise called Midway Manor, guitar-strumming Mickey Parks and piano-playing Lloyd Wallace monitor and manipulate the lives of their adult children on earth from the mid-'70s through the 1990s. Tampering with the facility's sophisticated computer, the dads thrust Mickey's daughter Allison and Lloyd's son Danny into a passionate but sometimes stormy relationship – a relationship steeped in Danny's heavy drinking and entangled in the often-zany world of men's adventure magazine publishing.

After carefully implementing a plan to send their son and daughter a gift of knowledge that could enrich their lives forever, the dads' brief contact is cut short. They are banished to another destination in the afterworld, but not before they impart indisputable proof of life after death – and unwittingly put Danny's and Allison's earthbound lives on the line.
---