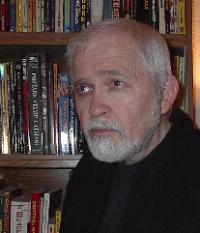 David R. George and Josephine C. George, authors of Stardust Dads: The Afterlife Connection
David R. George's extensive career as a New York editor/writer included the men's adventure magazine genre in the '60s and '70s. Co-author/wife Josephine, a long-standing student of the paranormal, has also had a durable editorial career that included proofreading dozens of Louis L'Amour novels.
David has written more than 200 published magazine articles, fiction and nonfiction, including a 9,000-word article on the men's adventure magazines in the March 2007 issue of Alter Ego magazine. He began his professional editorial career at Fawcett Publications, working as an associate editor on TRUE Magazine while attending Hunter College in the evening. In 1964, he joined Magazine Management, serving at different times as associate editor, managing editor and editor of various men's adventure magazines such as MALE, Men, For Men Only, Stag, etc. He worked there for thirteen years, alongside such literary luminaries as Mario Puzo, Martin Cruz Smith and Bruce J. Friedman – eventually witnessing firsthand the ultimate demise of the men's adventure magazine field.

David went on to serve as editor of a number of slick men's magazines, including the American edition of Italy's Playmen, Europe's best-selling men's magazine. Among his regular contributors were Stephen King and James T. Farrell. David also edited Hugo Gernsback's venerable Sexology for several years. In 1986, he left New York for the greener pastures of Asheville, North Carolina.
Josephine has had extensive experience as a professional proofreader for several typesetting companies in both New York and Connecticut – including the proofing responsibilities for dozens of Louis L'Amour novels. In addition to Mercy College, she attended the Hofstra summer writer's conference in Vermont presided over by NYU professor and award-winning author Walter James Miller. A student of the paranormal for more than 30 years, she has been an avid follower in the investigation of survival of life after death through the research published by Raymond A. Moody Jr., M.D.; with the life readings of clairvoyant Edgar Cayce; and of well-known psychic, author and TV personality John Edward. Josephine claims that much of her inspiration to write a novel is derived from one of her favorite authors, Richard Bach.
From 1988 through 1996, David and Josephine founded, published and edited a forty-page seniors-oriented tabloid, Carolina Senior Citizen [later changed to 39 Plus] in western North Carolina, which integrated subscribers throughout the U.S. Both contributed articles to the publication, and in 1992 feature articles were selected, compiled and published in paperback by Land of the Sky Books (The Best of Carolina Senior Citizen, ISBN 1-56664-002-4).
After a 14-year stint living and working in Las Vegas, Nevada, David and Josephine returned to the mountains of western North Carolina and are watched over by their three codependent cats: Cali, Francisco and Sparky, and, from afar, their beloved Bratly.